---
To determine if a Training Area is Open or Closed, review the Interactive Map
---
Seasonal Updates:
1. 2023 Christmas Tree Cutting permits are now available in your account.
2. 2023-2024 Trapping permits are now available in your account.
3. All Fort Wainwright Recreation Maps are GPS Enabled and can be used on your mobile device. Training Area locations also available as KMZ files for your favorite mapping app.
---
How to Gain Recreational Access to USAG Alaska managed lands:
1. Sikes Act Permit (SAP): - Formerly the RAP - You can obtain a SAP on this website by selecting Register on the blue menu bar at the top of the home page. SAP carries a $10 fee.
2. Check In: You may check-in through this website by selecting Check In on the blue menu bar at the top of the home page, or by calling the automated phone. A SAP is required to check in. You cannot check-in to areas that are closed for training. There is no checkout system.
3. Groups: For all non-military groups/organizations requesting temporary land-use or access to USAG Alaska managed land, please call or email the Technical Issues contact below.
Automated Phone Check-in:

877-250-9781
Report violations / wounded wildlife: 907-353-7535
Monday - Friday 0830-1600
U.S. Army Garrison Alaska (USAG Alaska) is near the cities of Fairbanks, North Pole, and Delta Junction in interior Alaska and is the fourth largest Army training area in the United States. USAG Alaska consists of Fort Wainwright Main Post, Fort Greely Main Post, Tanana Flats Training Area, Yukon Training Area, Donnelly Training Area, Gerstle River Training Area, Black Rapids Training Area, and Whistler Creek Training Area. Recreational activities are permitted on USAG Alaska managed lands providing those activities do not conflict with the military mission or training activities. The USAG Alaska iSportsman system has been established to facilitate public recreational access to Army managed land and to keep you informed of training area closures.
All recreational users on USAG Alaska managed lands, 16 years of age or older, must register for an account with iSportsman and obtain a SAP. All users must check-in on the USAG Alaska iSportsman system before recreating and have proof of SAP (printed or screen shot on your phone). The SAP is good for 1 year. You can check-in the day of, or the day before, you access Army land for up to 14 days. Check-out is not required.
All areas that are determined open for recreational use may be closed temporarily during periods of military use. Recreational areas are areas that are open to all types of recreation, including off-road vehicles (ORVs). Off-Limit and Impact Areas are restricted to public access and use year round.
Report Invasive Species on the USAG Alaska Reporting System.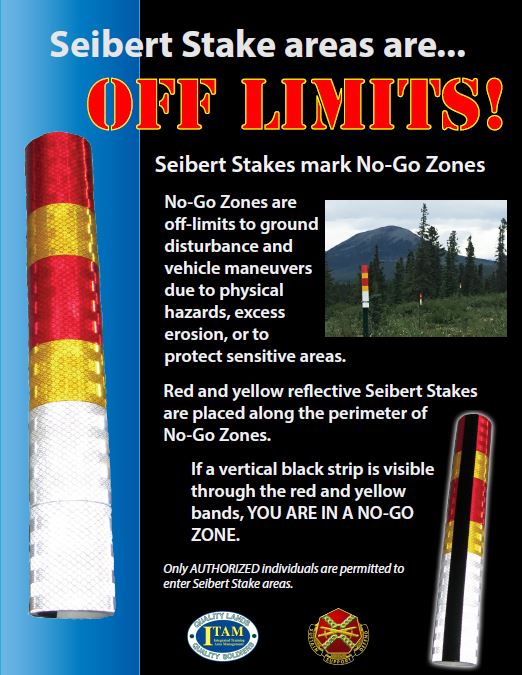 Please leave an ICE Comment if you would like to offer recommendations on how to improve your experiance on this website. You can also leave a comment to alert DPW Environmental to any issues or concerns you have regarding recreation on USAG Alaska Army lands. Comments can be anonymous if that is your preference.
---
*United States Army Garrison Alaska acknowledges the Athabascan people as the original stewards of these lands and expresses appreciation to live, work, recreate, and train on the Dena homeland.